January 8, 2023 | Silver Spring, Maryland, United States | Angelica Sanchez, ANN
For over a decade, thousands of Adventists worldwide have experienced the impact fervent, faith-filled prayer can have through the General Conference (GC) of Seventh-day Adventist's annual Ten Days of Prayer. Beginning January 11, 2023, "There [will be] thousands, if not millions, of Seventh-day Adventists uniting in prayer around the world," highlights Jonathan Walters, media and communication manager for the GC Ministerial Association.
This ten-day Revival and Reformation event "guides individuals, families, groups, and churches into a meaningful time of united prayer," he emphasizes.
Dwain Esmond, associate director of the Ellen G. White Estate, shares, "God's people are to be powerful, but we are distracted." In our fast-paced world, time in prayer and Bible study has been overtaken by technology, among other distractions. "In the United States, children aged 8-12 spend 4-6 hours a day watching or using technology," notes Esmond. In addition, "the average person taps, clicks, or swipes their phone 2,617 times per day."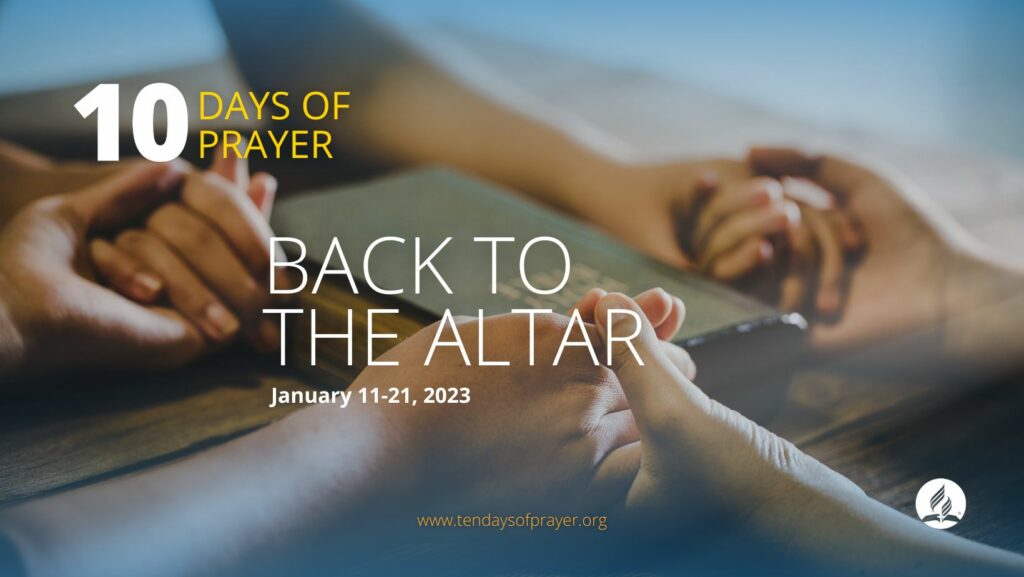 For this reason, this year's prayer theme, "Back to the Altar," not only introduces the GC's latest initiative, but also seeks to revitalize and restore family and personal worship in Adventist homes worldwide.
"The materials include daily, very short readings, as well as prayer requests and prayer pointers to help participants spend a meaningful hour (or more) in united prayer. The emphasis is really on actually praying together and less on talking or reading," notes Walters.
Though Ten Days of Prayer occurs once a year, the GC Revival and Reformation initiative provides regular prayer-focused events throughout the year. Known as "Quarterly Days of Prayer," every first Sabbath of any new quarter is an opportunity for the World Church to engage in prayer together.
In addition, Revival and Reformation also provides materials for church members to participate in 40 or 100 Days of Prayer whenever they'd like.
Along with prayer, church members can participate in Revival and Reformation's Believe His Prophets initiative. This five-year reading plan guides participants through the Bible one chapter a day and through selected Ellen White writings one chapter a week.
In her book Steps to Christ, Adventist pioneer Ellen White shares, "Why should the sons and daughters of God be reluctant to pray, when prayer is the key in the hand of faith to unlock heaven's storehouse, where are treasured the boundless resources of Omnipotence?" (p. 94).
As 2023 begins, may the World Church seek the outpouring of the Holy Spirit. May families be led to daily worship, and may all recommit their lives to Christ. Jesus is coming soon.
Watch this year's Ten Days of Prayer promo video here. Learn more about 10 Days of Prayer and find other Revival and Reformation Bible study resources here.